The Amish -- Selected References
Best Recommended Books
Amish Society, John A. Hostetler. Johns Hopkins University Press, Baltimore, MD, 1993.
The Amish and the State, Ed. Donald B. Kraybill, Johns Hopkins University Press, Baltimore, MD, 2003.
The Gentle People: An Inside View of Amish Life, by Joe Wittmer, Ph.D, with contributions from Amish Children and Adults, 2001. $9.95.
A History of the Amish, Steven M. Nolt, Good Books, Intercourse, PA, 1992.
On the Backroad to Heaven: Old Order Hutterites, Mennonites, Amish, and Brethren" by Donald Kraybil (Baltimore: John Hopkins University Press, 2001)
"The Yoder Case" by Shawn Francis Peters (Lawrence: University of Kansas Press, 2003)
History and Culture
Amish Society, John A. Hostetler. Johns Hopkins University Press, Baltimore, MD, 1980.
The Amish and the State, Ed. Donald B. Kraybill, Johns Hopkins University Press, Baltimore, MD, 1993.
Our Amish Neighbors, William I. Schreiber. University of Chicago Press, 1962. On the Ohio Amish.
A History of the Amish, Steven M. Nolt, Good Books, Intercourse, PA, 1992
A Peculiar People: Iowa's Old Order Amish. Elmer and Dorothy Schweider, Iowa State University Press, Ames Iowa, 1975.
The Amish: A Photographic Album. Perry Cragg, published by Doris Cragg, 1470 Maple Rd., Cleveland, Ohio. Regional study of Ohio Amish.
The Gentle People -- A Portrait of the Amish. James Warner and Donald Denlinger. Grossman Publishers, New York. Limited to Lancaster County, Pennsylvania
The Amish: A Pioneer Heritage, John Zielinski, 620 S. RiversideDrive, Iowa City, Iowa. Photos from many regions.
Fields of Peace: A Pennsylvania German Album. Text by Millen Brand. Photos by George A. Tice. Doubleday.
Fiction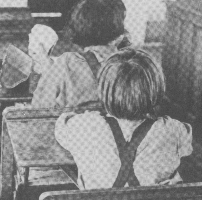 Rosanna of the Amish, Joseph W. Yoder, Herald Press, Scottdale, Pa.
Shoo-Fly Girl, Lois Lenski. Lippincott. Juvenile.
Yonie Wondernose, Marguerite de Angeli. Doubleday. For children.
Henner's Lydia, Marguerite de Angeli. Doubleday. For children.
Amish Schooling
Children in Amish Society, John A. Hostetler and Gertrude E. Huntington. Holt Rinehart Winston, New York, 1967. Case study used in education courses.
Compulsory Education and the Amish, Albert Keim, Beacon Press, Boston, 1975. Discusses the struggle for religious liberty.
Cookbooks
Amish Cooking. Pathway Publishers, Lagrange, Indiana.
Wonderful Good Cooking from Amish Country Kitchens, Fred Wilson, et al. Amish Country Publishers, Berlin, Ohio.
Quilts
A Gallery of Amish Quilts. Robert Bishop and Elizabeth Safanda. E. P. Dutton Co., New York, 1976.
Amish Quilt Designs and Patterns, Phyllis Haders. Main Street Press, Clinton, N.J, 1976
Educational Film
The Amish, A People of Preservation. Produced by Heritage Publications, Inc. Two editions: No. 3499, 53 minutes; and No. 3399, 28 minutes. Distributed by Encyclopedia Britannica Educational Corp., 1822 Pickwick Ave., Glenview, Ill. Consult film rental libraries.

Back to home page.
---

Revised 01/31/05